AMAZON KINDLE VELLA – NEW READING REVOLUTION OR A MISCALCULATION? ORANGE EXPLORES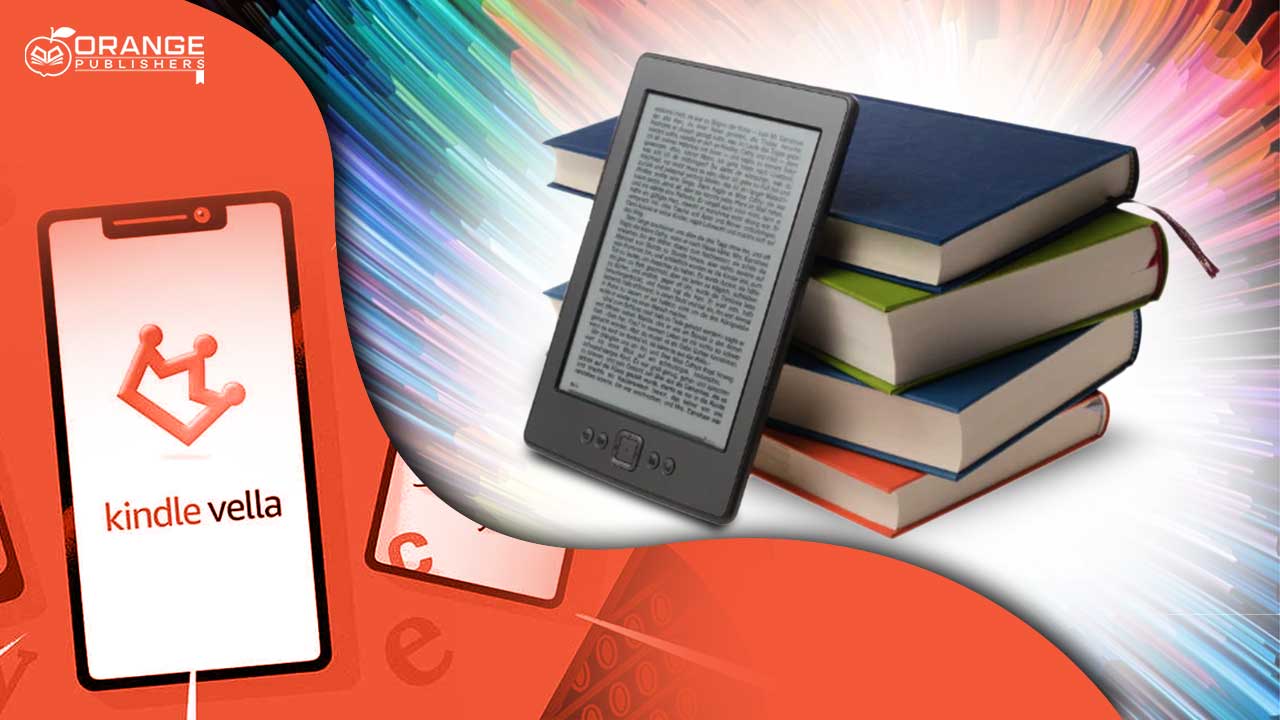 SO, WHAT IS KINDLE VELLA?
Before we start with this question, you need to know what is KDP.
KDP is Kindle Direct Publishing, which is Amazon's e-book self-publishing platform. This is where authors get to publish their e-books for free. While the margins are not that good and only exceed up to 70% with most being in the range of 30%. This is quite considering our self-publishing terms and royalties at Orange Publishers where the author makes the most profit on all books sold.
So how does KDP tie into Kindle Vella?
This is where things get interesting.
KINDLE VELLA
Kindle Vella is something revolutionary. It is this new way of publishing and interaction with the reader that was impossible before the internet. Kindle Vella lets authors publish serialized stories, one episode at a time. This ties in perfectly with the rise in series culture in nearly all forms of art from TV series to YouTube videos, music releases etc. Everything in 2022 is slowly but surely moving to the serialized model of publishing which ensures longer user engagement.
The unique thing about Kindle Vella is that it brings this to the literary world. With this, authors can hope to gain the same level of engagement with their audience and ensure their work stays relevant and also ensure they get to compete with the already established names of the literary world.
IS THIS CONCEPT REALLY NEW?
Well from a concept point of view we can't say similar models haven't been tried ever before. Novels of fiction from authors like Arthur Conan Doyle etc have been published in a serialized format but serious works of literature have to be limited to novels. Because of the outreach limitations authors prior to this haven't really been able to break down their novels into chapters and release them weekly or daily. Doing so in paper format is cumbersome and printing and publishing them orderly is quite the effort no publishing house likes to deal with.
From this standpoint, Kindle Vella ensures that the episodes or chapters or even small segments of chapters get released according to the breakdown the author wants.
HOW TO GET AMAZON VELLA?
Here's some good news and some bad news, the good news is that Vella can be installed both from the Apple Appstore and the Google Play store. The bad news is that it's still a US exclusive offering. This is primarily because it's still in its early stages as Amazon checks if it is a viable business model worth launching to the global wider market.
HOW DO YOU READ STORIES IN AMAZON VELLA?
Currently, as the model stands, you can read the first three episodes of an offering for free and upon liking and seeing if that series is for you, you can then buy tokens which you can redeem on new episodes.
Here's a breakdown of the token prices
Number of tokens Price Price of each token Rough word count
200 $1.99 $0.01 20,000
525 $4.99 $0.0095 52,500
1100 $9.99 $0.009 110,000
1700 $14.99 $0.0088 170,000
The more tokens you purchase the cheaper you get them. There are also exclusive offers to choose from. You also get a Crown after completing a story which you can use as a rating to give the best series. This determines the ranking of the series and the author.
WHAT'S IN IT FOR THE AUTHOR?
Currently, the royalties depend upon the tokens but there's a catch. The author only gets 50% of the royalties and the other 50 is taken by Amazon.
CONCLUSION
So, is the Vella worth your time? Well, there are a few things we personally do not like, like the complex token system and the US exclusivity and the high royalty cuts taken by Amazon. But considering all things, this is still quite a new and revolutionary idea worth your time. Maybe try it as a reader and maybe you will like it.
For the author, although this gives you a good platform, it isn't worth it for such meagre royalty shares. And if you are someone who wants more autonomy and power to stay with the author, Orange Publishers is the perfect destination for you because we provide the most seamless publishing experience and clear royalty deals which are the best in the market. We take of every aspect of the publishing process. If you are going to be an author, why fall for big corporations when you can rightfully publish and be an author, at Orange Publishers.