HOW TO OUTSOURCE EBOOK WRITING BY ORANGE PUBLISHERS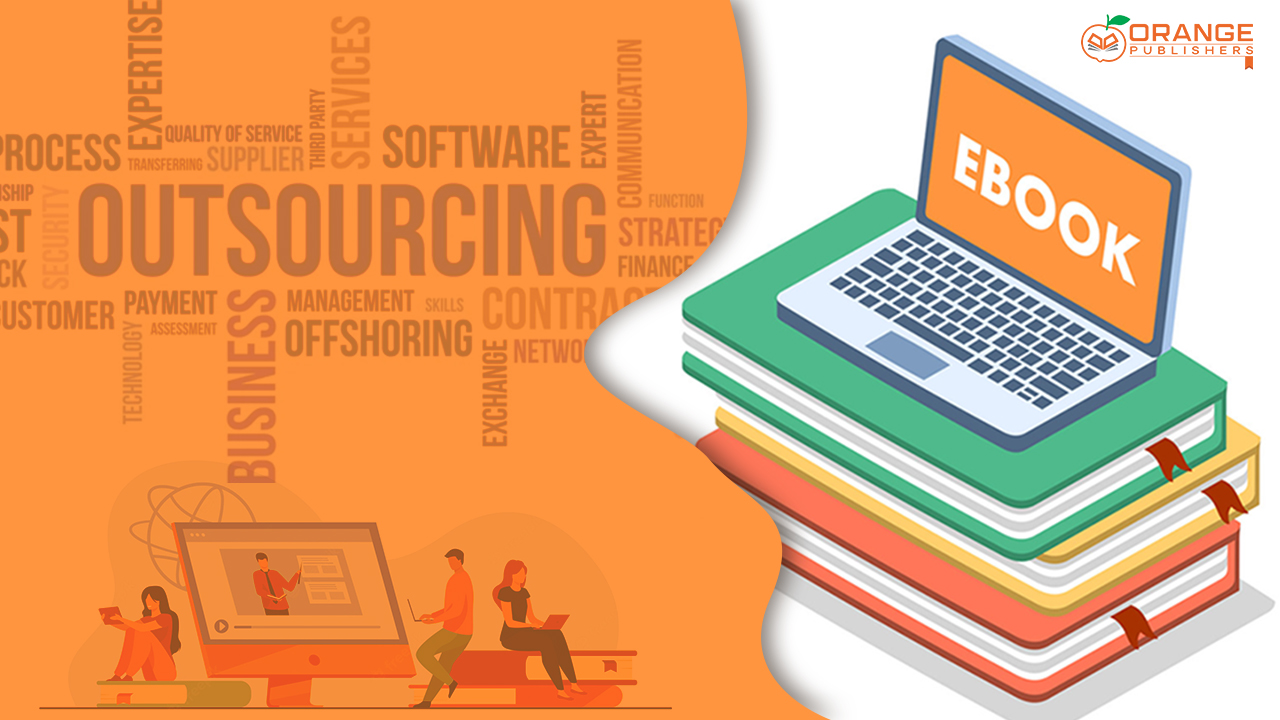 Outsourcing any book and especially an eBook is quite common. You might ask who are the people who outsource their books. They can be people who want to write down their research papers but do not have the time and writing skills and they can also be lecturers who want to make the lectures into an eBook for their students as well as people who are engaged in different professions and simply do not have the time to write a book and even businessmen who want to write business eBooks and much more.
This usually happens as the person who wants to write the book has a clear set of goals and ideas and they either do not have the time or the resources or the skills to write a full-fledged eBook and this is when they start looking for ghost-writers and content writers who are going to write the book for them. But before we begin there are a few critical steps of understanding that they must know.
· PRE-OUTSOURCING
If you are someone who is not writing your book but rather outsourcing it then your role changes slightly and you become more like a project manager who has to manage the process of their book being written. And like any project, they have to fulfil a few tasks necessary for the completion of the book. Let us see in the next point what are these tasks.
· GOALS
Before you even start the process of hiring any book writer to write your eBook, you must be clear yourself about the reason for writing this book. This book is maybe written if you want to shed light on the industry you are working in and thereby you also need a writer who is familiar with this industry. If you are doing this as a motivational book so that people might get uplifted then you must also choose a writer who understands motivational speech. If this book is purely academic and will serve as a guide for your students then you must also find a writer who has an academic background and knows how to write academic material. We are basically saying that you must find the writer that fits the bill and understands the scope and goal for your writing of this book. This makes it quite easy for them to write the book.
· EXPLAINING THE WORK
Explaining the scope of a book is of the essence when you are starting this endeavour with the writer you have hired. It is important that you explain to them what is the reason for you writing this book and also what are the tasks they have to do. This will also include your vision about the book which may include how long you want the book to be and how many chapters you want to be there and even the word limit and paragraph limit. You can also explain to the writer that you want graphic diagrams as well as any other requirements. This type is quite important as this step prevents any miscommunication and dissatisfaction after the work has been completed.
· THE PREPARATION
This is probably the most important stage of the process wherein you get to hand over all your research notes and clip notes and any other material that you want to include in the
book. This stage also contains the project plan in detail and everything that you want them to do in the book which may also include various illustrations as well as various sources of inspiration that led you to start this book. The more in-depth you are in this process the better your outcome will be and the better the writer's final book will resemble your vision. This is also the point where you want to establish a good working relationship with the eBook writer as you would want to express as much as you want for your vision of the book.
· THE OUTSOURCING
There are a lot of places where you can outsource your book. Let us talk about a few of these options.
A. FREELANCE WEBSITES AND PLATFORMS
This is probably one of the most cost-effective and one of the most popular options out there. You can visit a few of the most popular freelancing websites wherein you can choose a writer of your liking based on their ratings and even their past work success rate. These writers are generally good at what they do and can produce satisfactory results.
B. GHOSTWRITING WEBSITES
If you are looking for professional work and by that we mean work that is certified to be of the best quality then you can visit dedicated ghost-writing websites where you will find the best writers who are professionals in what they do and have years of experience and you will be able to work with them seamlessly.
· POST-OUTSOURCING
This is probably the trickiest part for you as the patron of this eBook. At this stage, you would like to have close supervision while the writer does the writing. This is where that healthy working relationship comes into play if you have a good working relationship already established with the writer then you can give them pointers as to which way the eBook should head. You can also give them materials while they do the work and assist them and also approve the outline that they provide you. And after all the supervision work and a few back and forths between you and the eBook writer, you can finalize the work.
This was a brief how-to guide for you to outsource your eBook. And if you are comfortable with outsourcing your eBook then you are also knowledgeable enough to understand that the best way to publish an eBook is through self-publishing where you get to decide where and how the book is published and promoted and this is where we come in. We are Orange Publishers; India's premium self-publishing book house and we would love to assist you in publishing your eBook.