Questions To Ask Before Using Copyrighted Work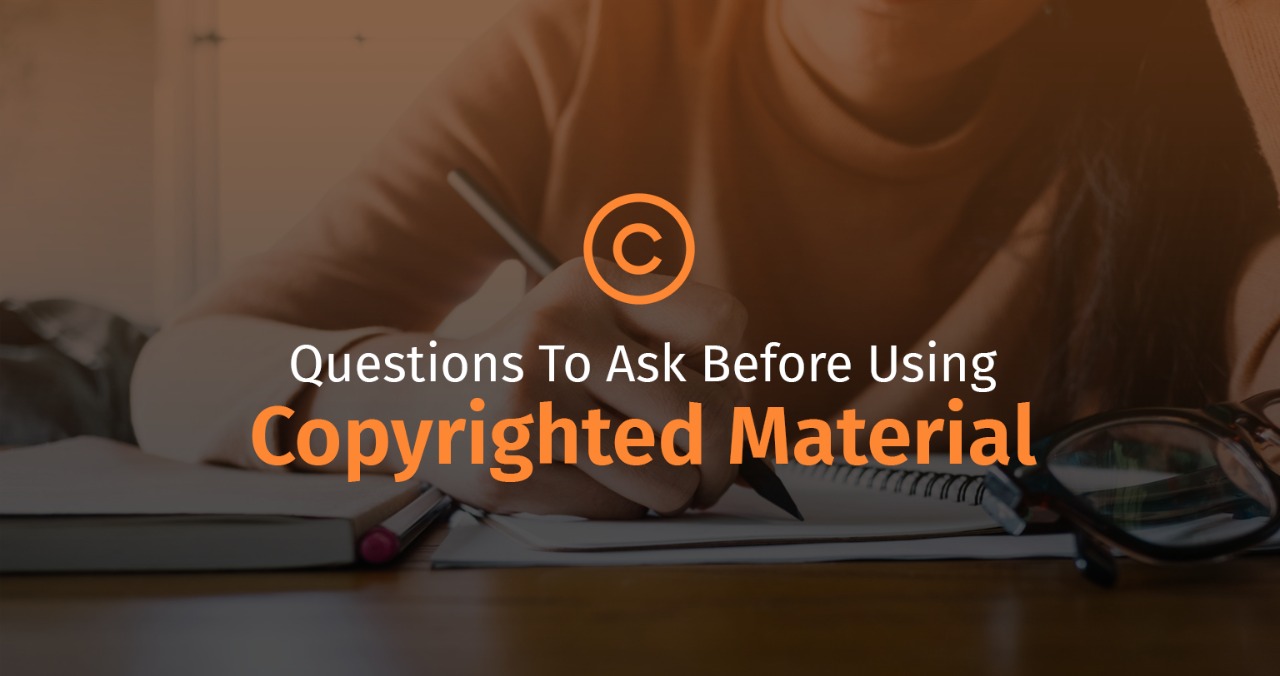 Plagiarism is a sin and you do not want your hands like Lady Macbeth's when you are in the world of content creation. But Gosh, that one perfect background score would have made your post perfect and top-notch! How do you get that?
We can guide you with Copyright laws, basics, its infringement, and the Copyright Right Act you ought to know. Stay tuned!
Copyright Permissions: Fair Use, Avoiding Violation and Bans
The rules vary from country to country. Our expertise would be mostly based on Indian Copyright Laws. Make sure to check your country's Copyright Act.
Fair Use
It is a fair use when:
You use it in non-commercial posts.

Write review/ report.

You put facts, data, news, or information for reference.

You create an adapted version of the copyrighted work.

Your content in no way affects the market worth of the original content.
Copyright: Can and Can't
Contents you can copyright include:
Any piece of literary work you have created. Includes books/films/stories/ideas.

Blogs are written in your domain.

Any sort of merchandise for promotion of your product.

Website
Contents you cannot copyright include:
Your pen name

Facts and figures

Usual symbols

Phrases
Questions You Must Ask Before Copying
To be fair and clear and yet be inspired in your creativity, there are some questions your mind must have a clear answer to, to save yourself from copyright infringement.
Does the law permit me the use?
The Indian Copyright Laws date back to 1957 when the Act was officially drafted. The Act states that any author can claim first ownership of their work and can copyright the content. As per the law of Singapore, the author automatically gains a right to tangible work forms. So, always remember to check your country's laws before using such content.
Do I have clear-cut permission for using copyrighted content?
You can avoid getting into a pickle, get permission granted. Try to be polite and gentle in approaching the creator. Good behavior goes a long way.
Am I going to use it for promotion?
If you use copyrighted content for promoting your own, Good Lord that's a red flag as a creator.
How much can I use?
Fair use can be argued upon if your creation is 90% or more free from plagiarism.
Am I duplicating the Copyrighted content or taking inspiration?
If you are duplicating anyone's work for your publicity, it is highly unethical and goes against the law.
What is the Copyright term?
The duration according to the Indian Law extends to a maximum of 60 years.
Is Copyright Infringement punishable?
In our country, the offense can lead to 6 months of imprisonment apart from a fine of as much as Rs. 50000. The forfeiture shall be doubled in case of a repeat offense.
What shall I do if my content is plagiarized?
You can always approach the jurisdiction for grievance redressal and claim author credit.
Our Advice
Always be alert about violation of contract, publicity rights, defamation, and just like responsible creator respect what others create to build a strong community where you and others can co-exist to grow. Share with us if you have any further queries. Orange Publishers will be happy to guide you.